2001 Buick Open Preview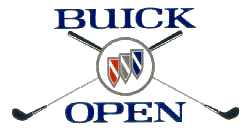 GRAND BLANC, MI --- Surprisingly, the constant buzz surrounding the 2001 Buick Open at Warwick Hills Golf and Country Club wasn't if Tiger Woods would show at this year's event.
That, after all, is an annual topic at all PGA Tour events, especially at Buick-sponsored tournaments, considering Tiger is the company's most expensive spokesman. This year, golf fans in Michigan are wondering if the Open will leave Warwick for another venue when its contract runs out in 2002.
Yes, the contract talks might be overshadowing this year's tournament, which is the state's only PGA Tour event (There are two PGA Senior Tour events in July). But Buick Tournament officials aren't concerned. They say they are flattered that everybody is so interested in where this tournament is played.
It was the first topic that Tony Derhake, the executive director of Buick golf, addressed at media day recently at the course.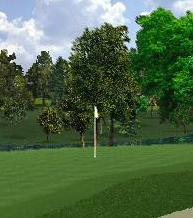 "We are going through the natural process of looking to get more value out of the event," he told the crowd of reporters. "We are looking around the state to figure out what's out there. We have no timetable to make the decision. We look forward to focusing on this year's event."
The 2001 Buick Open will be Aug. 9-12, with players battling for a record purse of $3.1 million, including $558,000 for the winner. The event is part of three other Buick-sponsored tournaments on the PGA Tour -- the Buick Invitational (in February at Torrey Pines in California), the Buick Classic (in June at Westchester in New York) and the Buick Challenge (in October at Callaway Gardens in Georgia).
It has been reported that the Buick Open has considered the University of Michigan's golf course, a classic Alister Mackenzie design in Ann Arbor, but U-M doesn't appear to have the parking or clubhouse to handle such a tournament. Finding such a working venue in southeast Michigan that will maximize attendance potential could be a daunting task for tournament officials.
"It will take a very significant event to take over what we have here at Warwick," Derhake said.
Making things all the more interesting is the announcement that Warwick Hills plans to complete a $5.25 million renovation by the 2002 event. Club President Kevin Ostby emphasized that the remodeling is "independent of the Buick Open" but he added it could "have a big impact on how the tournament is viewed (by the players and tournament officials)."
Warwick, founded in 1957, plans to build a new kitchen, locker rooms, members lounge and dining and banquet facilities, which will add 12,000 square feet to its current building. Also, new furniture will decorate the clubhouse, the existing tennis courts will be replaced with synthetic clay courts and a new parking lot will be paved.
"It will be first-class for our members," Ostby said.
Is this a ploy to entice Buick to come back? There's certainly a little bit of logic in that, but will it?
The biggest criticism of the Open is its location, about an hour from downtown Detroit. The Buick Open has always been held in Michigan, with the inaugural tournament at Warwick in 1958. After 12 years there, it moved to the Flint Elks Country Club for five of the next six years. One year it strayed south to the Benton Harbor Elks Country Club in 1973. It returned to Warwick Hills in 1978 and hasn't moved since.
Despite the tournament falling the week before the PGA Championship, when many players will rest for the fourth and final major of the year, the event has always attracted a solid field, yielding winners like Justin Leonard (1996), Fred Couples (1994), Vijay Singh (1997), Ben Crenshaw (1986) and Hale Irwin (1981), among others.
Tiger will no doubt boost the event's overall appeal, and attendance, if he shows for the second straight year. Woods, who tied for 11th last year, also played here in 1997 (a tie for eighth) and '98 (a tie for fourth). Tournament officials expect Woods to come, but they admitted that plans can always change.
The course at Warwick Hills is challenging in its own right, but some pros consider it to be too straight-forward and unappealing to make the long trek to Michigan. The par-72, 7,127-yard course is ranked as the 23rd-best in Michigan, according to Golf Digest's 2001 rankings, but it offers little in aesthetic beauty and its fairways are separated merely by a line of trees.
Defending champion Rocco Mediate doesn't seem to mind. He has played in the event 12 times since 1986.

"Coming here is like being at home again," Mediate said. "I stay with an old friend in Rochester Hills while I'm here. I love the course. It's an old-fashioned, right-in-front-of-you type of golf course."
He said the course, which is heavily bunkered with a ton of doglegs, suits his game well.
"There is not one hole on the golf course where you say, 'Who in the heck built that?'" Mediate said. "Most courses we play, there are at least five of those holes. I love the way it sets up for my game. I can work the ball on a lot of holes. It's a good course all around."
Mediate blitzed the course with a 66 on the final day last year to finish 20-under-par 268, including a birdie on the last hole, to edge Chris Perry by a shot.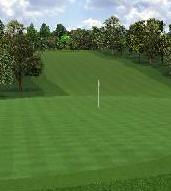 Warwick starts out with a long, winding 567-yard, par 5 that crawls slightly uphill, then dips into a valley before the green. To score well, players must be able to shape their tee shots over trees and bunkers and around corners. For example, No. 2, a 431-yard par-4, and No. 5, a 437-yard par-4, both dogleg right, while No. 4, a 401-yard par-4, and No. 6, a 421-yard par-4, bend left.
Because of their lack of length, the par-3s on the course are susceptible to a birdie barrage. None of the par-3s are longer than 199 yards, and only one, the picturesque 17th (197 yards), holds water. In fact, only one other hole, the 435-yard 18th, boasts water.
What: The 2001 Buick Open
Where: Warwick Hills Golf and Country Club
Address: 9057 S. Saginaw Road, Grand Blanc, MI 48439
When: August 6-12, 2001
Course: The par-72, 7,127-yard course is ranked as the 23rd-best in Michigan, according to Golf Digest's 2001 rankings
Schedule of special events: Aug. 6 - Buick Open Ladies Day Challenge Pro-am (noon). Aug. 7 - Practice rounds, the Rendezvous Family Golf Experience (1 p.m.), the PGA Tour Celebrity Skins Challenge (3 p.m.). Aug. 8 - Pro-am 7 a.m.
Purse: a Buick-Open record $3.1 million ($558,000 for the winner)
TV: The Golf Channel and Fox Sports Net -- 4-6:30 p.m. Thurs.-Fri. CBS -- 4-6 p.m. Saturday and 3-6 p.m. Sunday
Ticket prices: $15 for practice rounds Monday and Tuesday and $20 on Wednesday. $30 on Thursday-Sunday. $90 for weeklong ground badges. $175 for weeklong clubhouse passes. Rendezvous Club passes (for access to the facility near the 12th hole) are $125. Corporate hospitality is available by calling (248) 269-3081
Ticket orders: 1-800-878-OPEN
April 27, 2001