Northville Hills Golf Club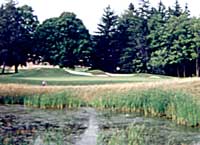 The NORTHVILLE HILLS GOLF CLUB (734-667-4653) is the first high-end public access golf course to open in Western Wayne County. Being an Arnold Palmer design, the layout was created to blend in with the natural environment.
At Northville Hills, this encompasses a nationally recognized and funded stormwater program, designed to filter water from the golf course and nearby housing development - discharging cleaner water into the Rouge River. Surrounding wetlands are considered environmentally sensitive areas, certified and monitored by the Audubon Cooperative Sanctuary System. Truly a golf course with a conscience! On property is an ample grass driving range, putting green, full service golf shop, locker rooms and the Northville Grille.
The golf course is a good one. Elaborate, detailed bunkering and finely conditioned Bentgrass fairways and greens will greet you on every hole. Tree-lined fairways, water hazards and deceptive heather rough are also course features.
With 4 sets of tees measuring from 4956 to 7003 yards, you can choose your level of difficulty. There is a huge difference between the whites, blues and golds. The yardage booklet you receive with your paid green fee will come in handy. Yardage markers on the fairways are at times difficult to find.
We have been told that pin placement markers (small flags on the sticks for up/middle/back) will soon be in place, and may already be at this writing. These are the only drawbacks to an otherwise fine golfing experience. The four par 5's are of very reasonable distance and present birdie opportunities if played wisely. You should be happy with par on all four par 3's which are not long but are difficult, with tee shots over water hazards. Many of the par 4's are risk/reward holes, ranging in distance from 254 to 452 yards. Though challenging, the layout is fair and fun to play.
Our round began on the back nine, which was actually the first nine to open at Northville Hills (the front nine opened in October 2000). Ten is a short but challenging par 5, with bunkers, wetlands and trees coming into play as you approach the hole. It really requires accuracy along the way. After a tough par 3 over marshland, you will play perhaps the most birdie-able hole on the course, a short dogleg left par 4. Number 13 is the opposite extreme and the #1 handicap, not due so much to its length but to the nature of this dogleg right, as there is not much room to cut it off.
You probably will have to lay-up off the tee on the next hole, which is another dogleg right with an approach over a marsh. Fifteen and sixteen are interesting and score-able par fours, followed by another short par 3 over water. The finishing hole mimics # 10 - a reasonably short par 5 that will require you to think, and to avoid the fairway bunker on your tee shot and a considerable ravine on your approach.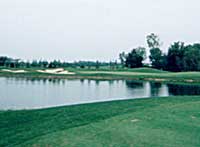 We found the front nine to be an interesting contrast to the back. Holes were a little more open with wide expanses of long heather on some holes, waiting to gobble up errant shots. Accuracy rather than length are of importance on the first three holes, which is perhaps the easiest sequence on the course.
Number one will play longer than it reads, with an approach to an uphill, undulating green. Stay to the left on your tee shot and you will be in great shape. Two and Three are the 18th and 16th handicaps, followed by the links-style fourth - a short but challenging par 4. Stay out of the high grass! Holes 5 through 9 present you with good opportunities to score.
None of these holes are overly long, unless you are playing from the tips - which on Northville Hills makes for a completely different course (over 800 yards longer than the blues). The green-side and fairway bunkers on these holes really add to the aesthetic beauty and challenge. A strong finish here is entirely possible.
Northville Hills is a wonderful golf course, providing an upscale golfing opportunity - and the only Arnold Palmer design - in the heart of West Metro Detroit. Prices for the public range from $60 - $75 in season, with special Northville resident, senior, junior and twilight rates. Fall rates drop significantly beginning 9/10. An annual pass program is also available to the public.
January 1, 2003