The Majestic at Lake Walden
MAJESTIC AT LAKE WALDEN (810-632-5235) is a 27 hole Jerry Matthews design located on some of the most beautiful property in Michigan. "Majestic" is truly a great description for this course. The first 18 holes wind their way around the 150 acre Lake Walden, which is spring fed. The property is spread out over 1400 acres and includes a full compliment of amenities, with banquet facilities, a natural driving range and ample putting green. The topography features rolling hills with elevation changes from tee to green on many holes. Tree-lined fairways offer fair landing areas with marshlands, multi-tiered greens and a variety of bunkers to challenge your shot making ability. Four sets of tee boxes allow you to choose your distance, which ranges from 4700 to 7000 yards. Daily pin placement sheets, a GPS and standard fairway marking systems (fairway markers and sprinkler heads) are in place for your convenience.
During my early morning round with Chip Lamarre (head instructor at Marino's Golf Center) we often commented on how this setting would fit in perfectly with layouts in Gaylord. Besides outstanding conditioning, The Majestic offers great vistas and an abundance of wildlife (we saw two herons on the first hole). We found the course to be quite a challenge - but also fair. The opening holes afford you an opportunity to get off to a good start.
Gentle doglegs and ample fairways are a characteristic, along with elaborate fairway bunkering. The par 4's are manageable from the championship tees (all under 400 yards) and the 2 par 5's are not long (except from the pro tees). Both of the par threes are gorgeous, with the downhill fourth playing longer than it seems. The par 3 8th is a beautiful hole with water to the right and sand protecting the green long and left.
The back nine opens with a memorable par 4 with a sharp dogleg left. An accurate tee shot will allow you a good angle for your approach - with little room for error. Another dogleg left with a challenging approach on 11 is followed by a 204 yard par 3 over marshland, to an incredibly undulating green. Numbers 13 and 14 are short but challenging, requiring ball movement from left to right with approaches to elevated greens.
The par 5 fifteenth is perhaps the best birdie opportunity in the course, which is a good idea considering the long par three which follows. Number 16 plays at over 200 yards - most of it carry over water, with bunkers to the left of the green. The seventeenth is one of the most difficult par 4's on the course, with a long tee shot requiring you to avoid the elaborate bunkering on both sides of the fairway. Most great courses have dynamic finishing holes, and the Majestic is no exception. It is a risk/reward par 5 that will allow long hitters to go for it in two. Most will have to lay up accurately, and approach this rolling green with some caution, as trouble abounds. This is a wonderful finishing hole on a great golf course.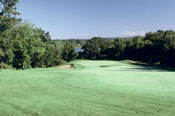 If you have not had the opportunity to play the Majestic, we highly recommend that you do. You will be impressed with the outstanding "up north" layout, great conditioning and good service. Obviously, great attention to detail has been put into the design and up-keep of this course. It is a 45 minute drive (with easy access off M-59 and 23) from Detroit, and not far from Lansing, Flint and Ann Arbor - with the opportunity to play 27 holes of the best golf around. The last nine - holes 19 - 27, feature a slope rating ranging from 112-145. Bring your "A" game and a camera. This is one of Southeastern Michigan's finest!
January 1, 2003