Fieldstone Golf Club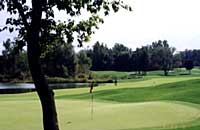 FIELDSTONE GOLF CLUB (248-370-9354) is an Arthur Hills designed, city of Auburn Hills municipal course that opened in 1998, and is already being heralded as one of the top 3 courses in Oakland County. A wide variety of topography and terrain including wind-swept meadows, wetlands and streams, and mature wooded corridors provide challenge and an aesthetic quality to Fieldstone's 180 acres.
Outstanding conditioning and sophisticated practice facilities (huge grass range, practice bunkers and putting greens) give one the feel of playing a private club. The only thing missing is a complimenting clubhouse. A temporary facility serves the purpose for now, with plans for completion of a permanent structure by 2003.
Fieldstone has served as the Buick Open Qualifier since 1999, and also has been involved annually with the Michigan Publinx Championship, Michigan Amateur, Women's Metropolitan Golf Association and PGA Junior Events. This sporty, diverse design appeals to golfers of all levels of play, with a slope rating ranging from 123 to 142.
Landing areas off the tee are well defined and spaciousness enough to give every golfer a chance, while also providing an exciting round and a formidable challenge. Be sure to make use of their expansive grass range and putting greens (which are very quick) before you begin play. The opening hole is the number 1 handicap on the course - a long par four that doglegs slightly to the left. After a long drive, you will be confronted with an approach that narrows, with bunkers to the left and the cart path and high grass to the right. The second hole is an easy and attractive par 3 , followed by 3 short par fours. The 333 yard third is a beauty, with water long right and tee shot over a marsh to a rather narrow fairway. Play it smart and par should be rather easy on holes 2 through 5. The par 5 sixth demands a long tee shot followed by accurate approaches over water on your second AND third shots.
Par is great here - as it is on the second of back to back par fives. Trees surround the green and the approach narrows on the seventh, which is the #3 handicap. A beautiful and lengthy par 3 over a marsh and a gorgeous par four that plays to an uphill green finish off the front side - which features all the odd handicapped holes.
The back opens with a par 5 that plays long - unless you are detoured (as we were) to an alternative green which turns this originally designed par five into a very reasonable four. After rather poor tee shots, we were delighted to discover that this was the case.
The ground in front of the regular lay-out was under repair. Both greens seemed to be in excellent condition, however. The 11th is perhaps the trickiest hole on the course - a short par four that requires you to drive the ball further than you realize. This hole is easy only if you play a long tee shot to the left/middle of the fairway.
A reasonably short par 3 is followed the # 2 handicap. Looks are also deceiving here as you can easily drive the ball through the fairway. Stay to the middle left if you are to have a chance to reach the green in regulation. Perhaps the easiest par 5 of the group awaits you on the 14th. Stay clear of the deep green-side bunker to the right and you may have a good shot at birdie. You will need to get all of it off the tee on the fifteenth, a rather lengthy par 4 to an uphill green - with a narrowing approach. The closing holes at Fieldstone feature the easiest stretch on the course . The two shortest par fours sandwich a very make-able par three.
Playing Fieldstone was a pleasure. The service was extremely friendly. There is a wonderful mix of short and long par fours, allowing you to use every club in your bag. It is a thinking man's course, which also affords the opportunity to let loose with your driver.
With the front tees under 5000, and the tips measuring over 7000, it is fair and challenging to all levels of golfers. The greens are quick and true - though you are left on your own to ascertain the daily pin placements. The fairways are well marked with plaques and sprinkler heads.
2001 in season green fees (with cart) were very reasonable at $58 - $63, and their fall/spring prices are a BARGAIN! Getting there is a bit tricky for newcomers, though you can see the course to the west while driving on I-75. - Exit Joslyn Road south off I-75; take the second left off Joslyn (Taylor Road) - go east past Giddings and you will see the course entrance on your right.
January 1, 2003