Purgatory Golf Club: A Superb Golfing Experience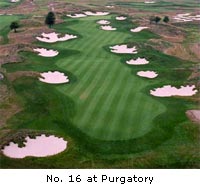 NOBLESVILLE, IN -- The Indianapolis 500 is dubbed "The Greatest Spectacle in Racing." It's a long, grueling event, and only the best racers finish unscathed.
The day after that old woman squawked, "Gentlemen, start your engines," at the Indianapolis Motor Speedway, I headed over to another Indy-area track no less grueling and much, much longer: Purgatory Golf Club, the longest non-mountain golf course in the world at 7,754 yards.
And when the starter growled: "Gentlemen start your drivers," I had a feeling I wouldn't finish unscathed, either.
"More heaven than Hell"
Purgatory Golf Club has been described in the past as "more Heaven than Hell." This assessment is accurate, as long as one piece of advice is heeded: Play the appropriate set of tees for your skill level!

Should you choose to ignore this warning, even the most righteous golfer with the purest of hearts (and swings) will linger a long while in Purgatory before entering the paradise of the 19th hole.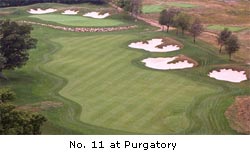 Fortunately for 99.8 percent of golfers, Purgatory has six tee boxes on each hole, so even with its wickedly contoured greens, evil fescue, and 133 hellish bunkers, this Ron Kern design is playable for all golfers. There are only two small forced carries off the tee, and all but one green have run-up areas, so miss-hits that stay out of the bunkers can roll onto the putting surfaces.
Modern with classic touches
Now before you jump to the conclusion that Purgatory - with it's eerie name and prodigious length - is just another gimmick course designed to counteract the effects of new equipment, consider this: Course architect Ron Kern's father, Gary Kern, was also a course architect and apprenticed under William (Bill) Diddel, one of the five founding members of the American Society of Golf Course Architects. And Ron learned the trade from his dad. As such, Purgatory's layout incorporates classic features and subtle tributes to some of the great course architects of all time.
The most notable aspect of the design is its linksy nature, complete with ever-present fescue. This stuff swallows golf balls like gray whales swallow krill. Head PGA Pro Greg Dycus's advice for playing Purgatory is, quite simply, stay in the fairway.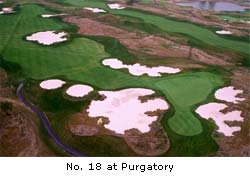 "People who can get off the tee straight will score," says Dycus. "If your driver isn't working, take a 3-wood or fairway wood. Don't take yourself out of a hole early." Staying clear of the knee-high fescue is so important that Dycus also recommends leaving your ego at home, at least for the first couple of rounds here: "Play one set of tees shorter than you think you should the first time or two. Then come back and play it longer, when you know the course better."
Several greens recall classic designs and designers. For example, the green on the par-3, 197-yard 3rd hole is a genuine Redan green, running diagonally away from the tees and complete with front and back bunkers.
The green of the 434-yard 6th hole is a Seth Rayner-style hogback, and has the most undulation per square foot I have ever seen. The green of the 487-yard par-4 8th is deep, with bunkers left and a fescue-covered hillock to the right. It is modeled after Alister Mackenzie's favorite green at Crystal Downs in Michigan.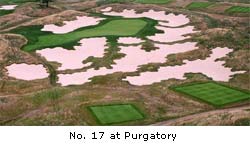 The fairway of the 474-yard par-4 16th is also a tribute to Mackenzie. Both sides are studded with fairway bunkers, but if you turn and look back toward the tees from the green, you won't see any of them - a hallmark of McKenzie's layouts.
Finally the green complex of the 406-yard 11th is in honor of Bill Diddle. The green, which is full of subtle bumps and mounds, is fronted by a postcard-perfect rock ridge set diagonally across the front of the putting surface.
Mind Games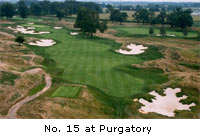 Purgatory's holes are all cleverly named, and none more so than Nos. 1 and 2. No. 1, a rather simple and short par 4 (373 yards) is named "Pride." After carding several pars here, my foursome was thinking Purgatory wasn't so threatening after all. Then we hit No. 2, a prototypical cape hole named "Stains of the Inferno." After each of us had driven over the water and through the fairway into the bunkers on the far side, and subsequently carded three 7s and a 5, we recalled that pride is in fact one of the seven deadly sins. And No. 2 made us perform penance for that sin.
One of the biggest mental effects of the course is simply its length. When's the last time you played a 741-yard par 5, like Purgatory's 13th? This is the sort of thing that makes weekend duffers weak in the knees.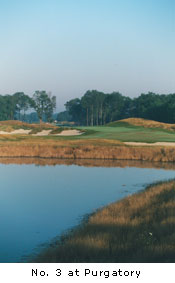 The par-5 closing hole is also a mind bender, especially the first time you play it. According to Purgatory Owner and Director of Golf Mike Merchant, "18 is a classic risk-reward hole. With its split fairway, you have the choice of going right and having a shot at a birdie 4, or going left and maybe carding an eagle. But left is definitely more dangerous." And considering players can't even see the landing areas from the tees, either route is intimidating to your average duffer/golf writer.
Your Time in Purgatory
Despite the ominous name, Purgatory is a superb golfing experience. The clouds have opened over Indy almost daily this spring, yet the course was practically free of squishy spots. The greens drain better than any I have seen in the area. And the bunkers, which are filled with crushed limestone rather than sand, were immaculate - no standing water or washouts anywhere.
The practice facilities are excellent - complete with sand and short game area. Although the clubhouse is not memorable, the pro shop is well stocked (check out the stuffed coyote greeting you at the door), and the grill is adequate.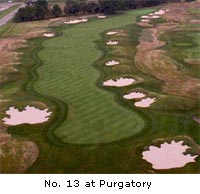 The only aspect of Purgatory more hellish than heavenly was the pace of play: The course was not terribly crowded on Memorial Day, but our round lasted five hours nonetheless. Part of the problem was that the foursome ahead of us insisted on playing from tees beyond their skill level, so they spent lots of time hacking around in fescue and flailing about in fairway bunkers.
And if you choose the wrong tees, you'd better have a relative light candles for you at mass, because you're going to be in Purgatory for quite a while.
January 1, 2003